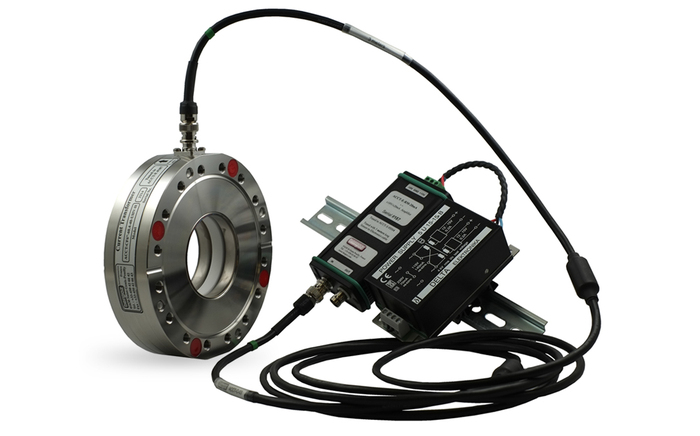 Precise waveform measurement of long pulses
and macropulses up to several milliseconds
with minimal droop and noise
Bandwidth

< 3Hz to 1MHz

Resolution

< 1.5 µArms
Features
The ACCT is an evolution of the active transformer first proposed by Hereward in 1960. Compared to the Hereward transformer, the ACCT presents much lower noise, a DC offset of the output reduced to a very small value and excellent long-term stability. The sensor is built with a single winding, which requires only one wire pair between sensor and electronics; this allows much better EMI rejection when long cables are used. The electronics circuit is multistage, implementing the best low-noise operational amplifier available for this application.
3 packaging types for the ACCT sensor
In-flange ACCT is mounted in the beam line. Short axial length, includes a ceramic gap vacuum-brazed to kovar.
Does not require bellows, wall current bypass nor electromagnetic shield.
Available from CF3"3/8 to CF8"
Bakeable up to 185°C
UHV compatible
In-air ACCT installation, over the vacuum chamber Requires installation of a "gap" to prevent the wall current from flowing through the ACCT aperture.
The gap can be a brazed ceramic ring or an organic material O-ring depending on the vacuum requirements.
Typical installations include bellows, a wall current bypass and an electromagnetic shield enclosing the ACCT completely.
In-air ACCT with optional magnetic shield for high resolution measurement in noisy environment.
Special shielding available on option
ACCT electronics and cable






ACCT Electronics output made to be read in high impedance devices.

DIN-rail mountable

Linear power supply available




Cable from Sensor-to-Electronics is a shielded twisted pair (radiation tolerant on option) with BNO (twin BNC) connectors.
Enregistrer
Enregistrer
Enregistrer
Enregistrer
Enregistrer
Enregistrer
Specifications
Full scale range From

Output full scale

Bandwidth

Noise at 10mA FS

Noise at 100mA FS

±10mA to ±2A

±10V

3Hz to 1MHz

≈1.5µArms

<5µArms